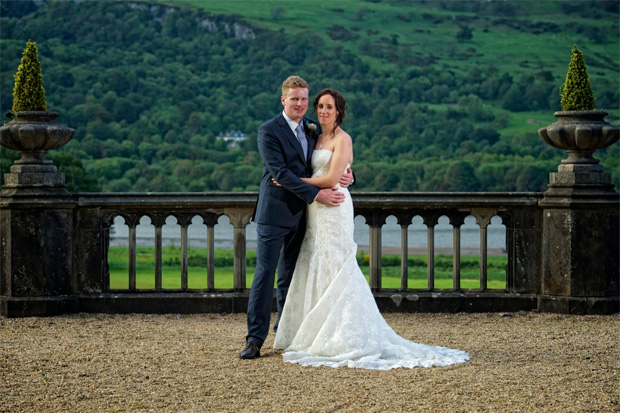 Mar Hall Hotel, Bishopton, June 2011
Hi Alex,

I'll always remember the first time we heard you playing at Mar Hall. It was New Years Day 2010 and we were enjoying dinner in the dining room, when the sound of Lady Gaga on the piano drifted through the door. We had a great meal singing along and spent the rest of the evening asking you to play our favorite tunes. I thing it was probably the combination of the romantic setting of the Great Hall and your playing of Elbow "One Day Like This" that persuaded Martin to propose the next day!

Along with Mar Hall you were the first thing we booked for the wedding. Our friends and family thought we were a little mad traveling up to Scotland to get married, but we knew that you would help to make it an amazing day. On our many trips to Mar Hall for wedding planning you kept us entertained in the evenings, even playing your version of "Lucy in the Sky with Diamonds" down the phone to me. I'll never forget walking down the aisle to this, or leaving Mar Hall the next day for our honeymoon when you very kindly played it again. As our friends and family have told us you are worth your weight in gold! Thank you Alex for giving us wonderful memories of our wedding day. You have quite a fan base in the North West of England now!

We hope to see you again soon.

Lucy and Martin Astle
---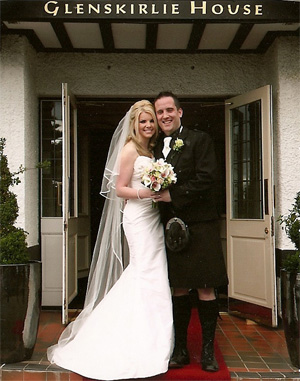 Glenskirlie House, Stirlingshire, July 2011
Hi Alex

Not long back from honeymoon and settled back into the swing of working again but just wanted to drop a note to say thanks again for playing at our wedding. The piano playing was just terrific, we thoroughly enjoyed your music and got so many comments from our guests to say how much they did too and what a difference it made to the day.

You really are a very talented player and it's such a lovely talent to have-a friend at the wedding can play piano but hasn't since she left home to study and she said you've inspired her to play again! We're really looking forward to hearing everything back on our dvd to enjoy it all again as the day passes so quickly it's all a bit of a blur!

Thanks again

Lee-anne & Kenny Gillon
---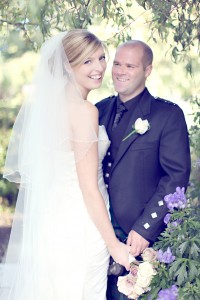 Lochgreen House Hotel, Troon, September 2010
Hi Alex, Hope you are well.

Its 6 months today since our amazing wedding day and I am getting all sentimental remembering it all.

I just wanted to drop a quick email to say a huge thank you for the significant contribution you made to our wonderful day. I will never forget the sound of your piano when I first saw Andrew on our Wedding day and every time I hear a piano now I think of that one moment.

Every single one of our guests was overwhelmed by your talent and your ability to play the piano, play any song they asked you and chat away at the same time. They talk about you every time we see them. You created a brilliant atmosphere and we don't think we will ever be at another wedding where the guests were playing name that tune and singing during the meal. Absolutely brilliant!!!

We know our friends Jill & Thomas have already booked you for their wedding and knowing Jill this will be another brilliant day. We won't hesitate to recommend you and hope that we will see and hear you again soon. (probably at the Popinjay)

Thanks again,
Susan & Andrew Wilson
---
Balbirnie House Hotel, Fife, July 2011
Hi Alex,

We just wanted to drop you a wee email to say thanks so much for helping to make our day so special. We had the most perfect day and haven't stopped smiling since. Our guests loved playing 'name that tune' during the ceremony and we've already been asked by a few folk if we would mind if they booked you for their wedding too – we don't mind of course! We hope you had a nice time too.

We'll pop along to The Balmoral to see you soon. We're off to Vegas tomorrow. We'll book you for our millionaires celebration party after we win big!!

Thanks again,
Maxine and Donald (Mr & Mrs Gow!)
---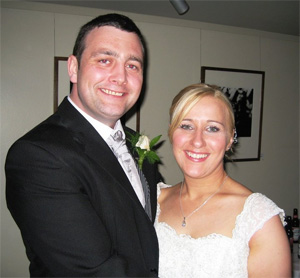 House For An Art Lover, Glasgow, June 2011
Hi Alex,

I just wanted to say a massive thank you for playing at our wedding last Thursday. We were so impressed with the amount of music you know off by heart and so were our guests! It was great people were asking for so many requests as it made a really good atmosphere. You finished it off fantastically by playing our favourite song as we took our seats for dinner. My sister is saying she wants to book you for her wedding next year so you may be seeing us again!

Many thanks,
Lynn & Ian Proctor
---
Western House Hotel, Ayr, March 2011
Hi Alex,

It's taken a while to get round to it but we just wanted to write and say thank you for playing at our wedding at the Western House Hotel in March. It was 0a shame it rained all day but it meant you had a captive audience to entertain, and entertain them you did. I'm glad you were happy that I'd put the request sheets on the table along with your setlists, it certainly kept you busy. Just about everybody at the wedding has commented on your playing, and we were all even further impressed by you playing some songs that weren't even in your book. I especially enjoyed Hoppipolla, even though you had to tell me what it was called, as it was effectively the theme of my stag do! The way you moved between the different rooms as necessary was superb, and we appreciate all your efforts and hope you had as much fun as we did. It was a fantastic day, helped in no small part by your hard work, and we both hope to attend an event at which you are playing in the future.

We've both given your name and website details to many friends so the chances are fairly high!
Thanks again,
Adrian & Hayley Januszek
---
Norton House Hotel, Edinburgh, March 2011
Hi Alex,

I hope you are well. We are just back from a wee break in Amsterdam and i wanted to drop you a wee email.

Thank you SOOOOOOOOOOOOOOO much for playing at our wedding! You did an absolutely, utterly, FANTASTIC job all day.

I cannot give you enough praise and i thank you from the bottom of my heart for really making the day so memorable. Every one of our guests commented on your talent, even the hotel staff!!! You have a fantastic talent and i am so pleased you were part of our special day.

I cannot thank you enough Alex. I wish you all the very best for the future.

Karen & Ross Keddie
---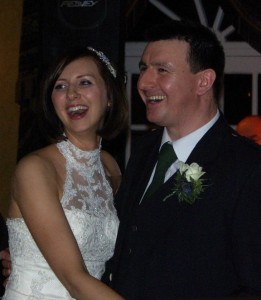 Forester Park Resort, Cairneyhill, Fife. November 2010.
Hi Alex,
I just wanted to pass on our thanks again for a truly outstanding performance at our wedding at Forrester Park in November. I knew we were in for a treat, but didn't expect to be so blown away! I don't think I've ever seen someone so talented – memorising and playing such a huge variety of songs.
Not only are you super-talented, you are genuine, polite and extremely customer-focused. You were an absolute pleasure to work with – you took the time to research our venue and discuss our set-up with the event co-ordinator and were so patient with our endless and late song requests. And after playing almost solidly for seven hours on the day at our ceremony, drinks reception & meal, you even carried on for another half an hour until our band were set up – at no extra cost and when you had another function to get back to Glasgow for!
We have been raving about you – as have our guests. You catered for them all, including the kids – and were so deserving of the standing ovation at the end of the night.
You really made our day, Alex, and have given us so many happy memories. Thank you.
Lyn and Richard Paterson.
---
West Brewery, Glasgow Green, October 2010
We're back to reality now, just got back from Mexico at the end of last week and I just wanted to say a MASSIVE thank you for playing at our wedding reception. Sorry, that I didn't get a chance to chat to you much, if at all, on the night. I was getting whisked away for some more photos when you arrived.

Several of our friends have commented that it was their favourite part of the evening. And I have to agree! We had a fabulous day and I'm glad we decided to go ahead with hiring you, my only wish was that we had you for longer.

I hope all is well with you. Take care.

Gillian and Ian Smith
---
House For An Art Lover, Glasgow, September 2010
I wanted to say how delighted we were with your music during the dinner at House for an Art Lover. You really complemented the atmosphere with your choice of songs. We loved the variety of tunes from Lou Reed to Frank Sinatra – in fact everyone enjoyed it so much that you even had some of the guests joining in your songs.  It really set the scene for the evening party!
You sounded great on your website and now I confirm you sound even better live (which we did not think was possible lol.) I would not hesitate to recommend you to any future brides or grooms.
We wish you every success for the future and thanks again!

Karen and Patrick McNair
---
Glenskirlie Castle, Stirlingshire, July 2010
Just wanted to thank you for playing at our wedding on 10th of July, you where fantastic and everyone commented on how great you were and so open to suggestions and requests!
The variety and volume was just perfect loved how you sub-consciously sang along to the songs was really fantastic! I think you should expect a few more bookings on the back of our wedding!
Once again thanks you were fabulous!

Stephanie & David Dodds
---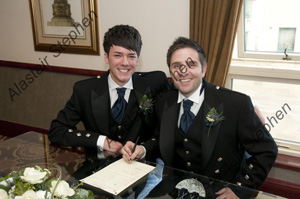 MacDonald Holyrood Hotel, Edinburgh, June 2010
Hi Alex,
I hope you're well, and I'm sure you're keeping busy.
We can't believe how quickly time has gone by, it'll be 10 month since we got married. So much has happened, but all good. New jobs for both Greg & I and a new house so it's been a bit of a whirlwind.
We just wanted to take the time to remind you how big a part you played in our special day, our guests loved you and you really did make the day more special. There really are not words to sum up how grateful we are. All we can say is we will treasure the memories of the day and the part you played in that forever.
We will hopefully see you at some point soon, probably the Balmoral.
With very best wishes and thanks"
Martin & Greg
---
Blythswood Square Hotel, Glasgow, June 2010
Alex's piano playing during our wedding breakfast blew us away at our wedding. Firstly the list of songs that Alex can play off by heart is endless so picking a playlist of our favourite songs for him to play was easy! He was incredibly professional and the guests were enthralled with his music. Alex was booked to play background music during the meal but he was so good that our guests stopped chatting to listen to his playing – Alex and his piano playing took centre stage. One of the key highlights of our day was when Alex played Hey Jude during the main course of dinner – it was so good that all the guests stopped eating and started singing and then stood to their feet in the chorus! A memory that will stay with me forever !
I am already planning a 1st anniversary party so you might get a phone call !

Pamela & Marcus Clements
---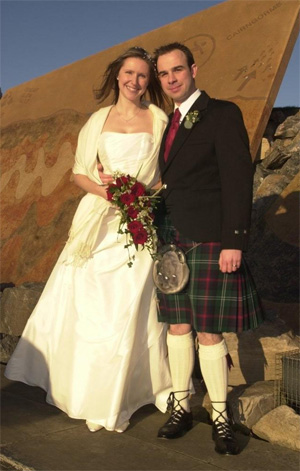 Dynamic Earth, Edinburgh, January 2010
How often is it you can find a pianist who can bound from a piece of Rachmaninov to his own classical interpretation of Insomnia by Faithless? All without any sheet music to hand. Fantastic, just fantastic. We were thoroughly impressed – from taking text requests from the lazier of our dinner guests to the polite manner in which Alex spoke with everyone. He also took all musical arrangements out of our already overgrown to do list and spoke directly with the venue staff and their technicians.

We cannot recommend him more highly; even the manager of the venue was asking for his number to put on his own recommendations list.

Louise & Fraser Sutherland
---
Crutherland House Hotel, East Kilbride, December 2009
We're delighted you were involved in our special day. From arranging the grand piano to suggesting tracks for the ceremony, you made things so easy for us. Throughout the ceremony, drinks reception and the meal, the music was fantastic and really enhanced the atmosphere of the day. The guests absolutely loved the variety of tracks, particularly at the meal when they enjoyed making requests. We will gladly recommend you to anyone looking for a pianist for any occasion.

Laura & Andrew McArthur
---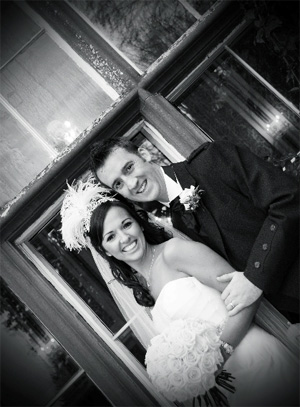 Drumtochty Castle, Aberdeenshire, November 2009
We can't thank-you enough for helping to make our wedding so special. Your talents are truly amazing and everyone has been commenting on how fabulous a pianist you are. From the church music, to our drinks
reception and then playing throughout our meal all of the songs you chose were perfect. Your playing truly made our day that extra bit special and helped created the perfect ambience at our wedding venue.

Thank-you also for helping us to decide on the entrance music to the church and the music while signing the registrar, it was a perfect combination of contemporary with traditional and worked very well together.

You were a joy to have at our wedding and we can't wait to hear you again at Kenny's sister's wedding (which she booked after hearing you play!) and also at your local slot at the Balmoral! We were so pleased that we met you that night in the Balmoral and chose you to play at our wedding, it was definitely an excellent choice!

Lucy & Kenny Deeley
---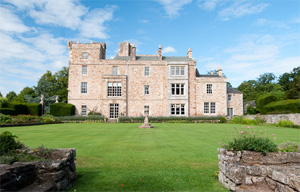 Lennoxlove House, Haddington, July 2009
Dear Alex,

We wanted to say a huge thank you to you for playing so beautifully during our wedding breakfast at Lennoxlove House on 4th July. We had so much fun choosing the music from your neverending repertoire and it was so special for us to have our favourite songs as part of our day.

Alex, your musicianship and talent is truly outstanding. We, and all our guests were in awe!  It was not only your music however that set you in a league of your own. Your professionalism and friendly, enthusiastic manner set you in a class above the rest! We can't recommend you highly enough! We had such and amazing day – truly magical and unforgettable in every way. We totally got our fairytale wedding! And you were such a wonderful part of it, so our sincerest heartfelt thank you.

Mark & Rachel Livingston
---
Buchanan Arms Hotel, Drymen, May 2009
Alex, thank you for contributing to making our wedding day so memorable. Your service from start to finish was exemplary and on a professional, knowledgeable, yet friendly level.

Nothing seemed to be too much trouble to you and we were made to feel at ease knowing our guests were in your capable hands during our drinks reception. All of our guests have commented on how they enjoyed your range of song choices and how well you played them.

The sing along into the wee small hours of the morning was fantastic, and was thoroughly enjoyed by all.
Special thank you for playing in the top table at dinner, as the piper we booked decided not to make an appearance.

Thanks again.

Ricky & Lyndsey Kennedy
---
Castlecary House Hotel, Stilingshire, July 2009
Alex, you helped to make our special day so memorable. Everyone has commented on how fantastic your piano playing was, and how they enjoyed the variety of tunes so much. It gave the drinks reception & the meal a lovely atmosphere. Booking you for our day was definitely one of the best decisions we made. Anna is looking for another excuse to book you again!!!!

Many thanks again

Ian & Anna Gray
---
Royal College Of Surgeons, Edinburgh, May 2009
Hi Alex,

Thank you so much for all of the effort that you put in for our wedding. The music was FANTASTIC and we couldn't have wished for anything more. You really made the day, and all of our guests are still talking about you! I have passed on your details, so you might be getting some more bookings!

You really made the atmosphere fun and enjoyable, and we really appreciate you playing all of the songs we'd put on our list!

We'll certainly be nominating you for a VOWS award, you really deserve it!

Thank you again

Kristen & Jamie Andrews
---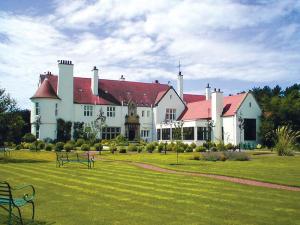 Lochgreen House Hotel, Troon, August 2009
Hi Alex,

I just wanted to say a big thanks for coming to our wedding and performing so well – we really appreciate what you did.

We had a great day and that was thanks in part to you so again, many thanks.

All the best in what you do.

Will & Sonia Fitzgerald
---
Western House Hotel, Ayr, October 2009
Alex,

Thank you so much for the wonderful job you did at our wedding, it feels like some time ago now!
Lots of people have been asking about you and everyone thought it was a lovely touch to have you play both during the ceremony and whilst they relaxed in the lounge.
I have to say that I was a bit oblivious to all that was happening most of the day but Gavin and I did manage a few moments to ourselves and your playing in the background was beautiful! I really hope I have need of your talents some time in the future!

Thanks again

Lynsey & Gavin Walker
---
Gleddoch House Hotel, Langbank.
It was so re-assuring to have you play at our drinks reception. We did not need to worry about our guests getting restless while we were away getting our photos taken. The music that you played was to all tastes and ages, with many people asking if there is actually anything that you cannot play! You made the occasion truly memorable thank you Alex.

Ewan & Victoria McMillan
---
Airth Castle, Falkirk
Alex, we would both would like to thank you very much for contributing to making our wedding day so memorable.  From entertaining our guests before our arrival at the Castle, during the ceremony and throughout the reception.  The combination of modern songs and timeless classics was enjoyed immensely by ourselves and our guests.  Many of our guests commented that having you play during the day made our wedding day even more special, thanks again, Lesley & David xx

Lesley & David Thomson
---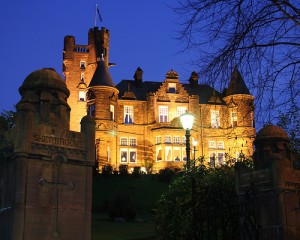 Sherbrooke Castle, Glasgow
Thank you for helping to contribute to our fantastic day. So many of our friends and family commented on how good it was to hear you playing such a variety of songs so well The 'sing-a-long' was a special highlight of the meal!

John & Suzanne McCrossan
---
Lesley Waddell (40th Birthday Party)
Alex, your contribution of live piano playing turned my 40th birthday bash from a party into a memorable experience. The range and diversity of music you were able to provide covered sophistication, style and participation! Everyone really enjoyed themselves. I knew the minute I heard you playing in Urban Grill that you would be perfect for my 40th and you were. Thank you so much."

"We would seek you out again and again whether it was to listen to you whilst being out in a bar or a restaurant or if we were having another house party, you bring a different, uplifting dimension and we love it.